WHAT IS THE MESOAMERICAN SCHOOL OF THE AMPB?
It is a school of thought; a space for dialogue, discernment and construction of knowledge of generational change and capacity building within community forestry organizations and the original peoples of Mesoamerica.
Their challenge is the formation of young women and men as leaders with human value, capable of igniting and transcending that higher ideal with which the organizations to which they belong were formed.
It works with the person, not so that they learn mechanically about a subject but so that it is recognized, rebuilt and can base their behaviour from an effective community perspective.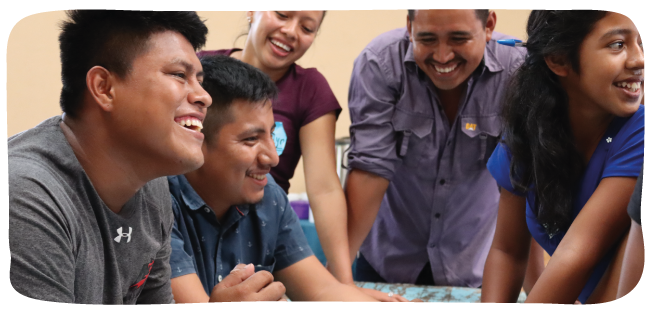 HOW DOES THE SCHOOL WORK?
It is conceived as an itinerant school, it goes from one country to another, from one reality to another, from experience to experience and from community to community; the communities that are the origin, the middle and the end of the process because that is where the current history is and the one that can be changed.
This allows each organization and territory to be responsible for organizing and conducting their respective training processes.
TRAINING METHODOLOGY
The school's methodology is based on inquiry and reflection. Organizes the process of improving the capacities of current leaders and the training and development of relief leadership from the historical subjects themselves, with the accompaniment of teachers or facilitators trained on the fly, who inspire, encourage and motivate with their example.
Since the changes of people require to be worked from the self to the us, the training work with young people has 4 phases:
Creation of identity and high group empathy.
From Self to Nos: Personal Identity and Collective Identity.
A community for learning and inquiry.
Entrepreneursh ip practice.
Central tools are workshops and field trips, exchanges, forums, debates to develop free expression, analysis, argumentation, respect for differences, the right to speak and dissent, the development of the collection and the taste for change.
18
territorial organizations from 4 Mesoamerican countries with which we work together.
120
120 youth from 9 organizations in Petén.
+300
young people from the Mesoamerican region participated in the training workshops.
11
communities of Gunayala region were selected for the leadership training program. 167 youth are participating.
25
young people from Talamanca, Costa Rica, participate in the beginning of the implementation of the Training Program.
4
nuclei that integrate 120 community youth (50% women) as part of the training program being developed by the school in the Honduran Mosquita.