COORDINATOR OF TERRITORIAL WOMEN LEADERS OF MESOAMERICA
The Coordinator of Territorial Women Leaders of Mesoamerica was born from the process of training local leadership within the framework of the territorial agenda promoted by the AMPB. The creation of this structure of women is given in order to project and dialogue in the most relevant advocacy spaces of the environmental political agenda on the threats, challenges and challenges that indigenous and community women face for the defense of territory, resources nature, the forest and culture, as well as to propose solutions for the inclusion of women in environmental policies related to their territorial rights.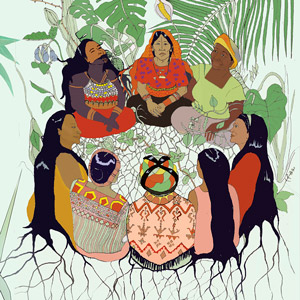 Loss and Damage
The impact of climate change is serious and of global scope. It is causing extreme weather events that more intensely and frequently affect indigenous peoples and coastal communities. Sea level rises and land degradation harms food security and biodiversity, hitting women first and foremost. The negative impact of climate change on human rights and the implications regarding the obligations of States in this matter, make Damages and Losses an issue that is necessarily linked to the gender agenda in indigenous peoples and local communities promoted by the Coordinator of Territorial Women Leaders of Mesoamerica.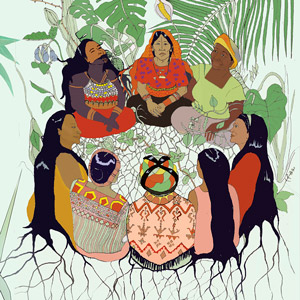 Funding dedicated to increasing the resilience of women from indigenous peoples and local communities
The Coordinator of Territorial Women Leaders of Mesoamerica (CMLT) and the Mesoamerican Alliance of Peoples and Forests (AMPB), makes available the Mesoamerican Fund for the Strengthening of Political and Business Capacities of Indigenous Women and Local Communities (FOMUJER), directed to organizations of women of indigenous peoples and local communities of the Mesoamerican region that protect, care for and administer important areas of forests.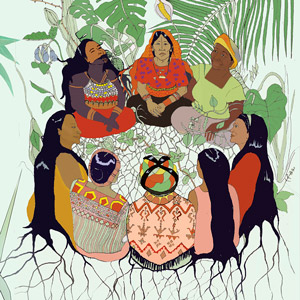 The traditional knowledge of indigenous women is essential to protect humanity from the effects of climate change
Since the origins of humanity, indigenous women and women from base communities have been the guardians of the planting, care, conscious use and preservation of native plants with medicinal properties in every corner of the world, linking them to spiritual practices to heal any disease. Even today, in each community there is usually at least one woman or a group of women midwives and healers, who inherited from their grandmothers – and in turn transmit to new generations orally – extensive knowledge of natural medicine based on ancestral practices. They continue to be the reference for the healing of any member of the community. The use of traditional medicine is part of the solution to the health effects that climate change is causing.