WHAT IS THE COORDINATOR OF TERRITORIAL WOMEN LEADERS OF MESOAMERICA OF THE AMPB?
We are born from the process of formation of territorial leaderships, within the framework of the AMPB agenda. We created a women's structure in order to project and dialogue in the most relevant advocacy spaces of the environmental political agenda on the threats, challenges and particular challenges that indigenous and community women face for the defence of territory, natural resources, the forest and culture; as well as to propose solutions from the inclusion of women in environmental policies related to their territorial rights.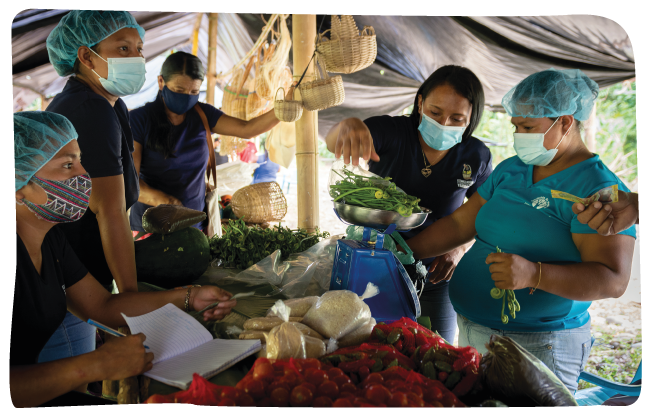 ACHIEVEMENTS
The territorial women leaders of Mesoamerica are:
Protecting the last tropical forests in the world.
Leading processes of mitigation and adaptation to climate change. 
Creating solutions from nature and ours communities. 
We have achieved the participation of women in the political spaces related to ours territories and the strengthening of capacities (technical, political, business); influencing public policies related to megaprojects, REDD +, FLEGT, climate change, safeguards, justice, equity, forestry incentives and the implementation of the Mesoamerican Fund for the Strengthening of Business Capacities of Indigenous and Community-based Women (FOMUJER).
Strengthening the capacities of indigenous women and local communities in Mesoamerica.
Make visible the impact of losses and damages on women and their livelihoods, indigenous peoples and local communities in Mesoamerica due to climate change.
Rescue of the traditional knowledge of indigenous peoples and local communities.
CHALLENGES
Positioning of the #ResilientWomen, initiative: a proposal linked to the Warsaw Mechanism, to make visible adaptation and mitigation initiatives managed by indigenous women and grassroots communities, to promote dialogue and reflection between actors from different regions of the world on opportunities to address the losses and damages caused by climate change from a comprehensive, inclusive and equitable perspective.
MEMBER ORGANIZATIONS
Grassroots women from REDMOCAF / Mexico
Grassroots women from ACOFOP / Guatemala
Grassroots women of the National Alliance of Community Organizations of Guatemala / Guatemala
Miskito Women MASTA / Honduras
Grassroots women from FEPROAH / Honduras
Territorial Government of Mayangnan Women / Nicaragua
Miskito Women Nicaragua / Nicaragua
RIBCA / Costa Rica Women's Coordinator
Association of Embera Indigenous Women Artisans (AMARIE) / Panama
Kábata Könana Women's Association / Costa Rica
Guna Bundorgan Women's Association / Panama
BLIMAT – Miskito Women of Brus Laguna / Honduras
Utz Che' Community Forestry Network of Guatemala / Guatemala